Working with the Masters – Howard Fine Acting Studio, Australia
The last few months of 2012 was a busy time.  I had been cast in two films "V for Vienetta" and "Raymond Taylor's Earnest Adventures in Love" in a supporting and lead role respectively, had the privilege once again to be a Juror for the AACTA Awards, was organizing the Investors' Launch for my documentary "A Life Unexpected" with my brilliant Executive Producer, Bobby Galinsky and fellow Producer Melanie Brunt and was also accepted as a participant in the Howard Fine & David Coury Masterclass here in Melbourne.
To say my schedule was slightly insane would be an understatement!
But I wouldn't have missed being a part of any of it. This is the life I have chosen and I celebrate the opportunities I am given to keep living it with such incredibly talented and dedicated people around me.  Any opportunity I get to explore and learn what's possible beyond my current experience as a creative I embrace wholeheartedly.
So this update is not about how busy things have been, but rather how grateful I am to have had the chance to work with and get to know all these people. Specifically, for the purposes of this stream of consciousness, the Howard Fine Acting Studio Australia Faculty who have stretched my acting muscles and reminded me why I chose this crazy creative life by igniting in me a renewed excitement and love for the craft of Acting.
My first encounter with the Studio was back in July 2012 when I was invited to audit Howard's Masterclass by an actress friend who was participating. Always up for seeing teachers new to me at work, I cleared by schedule and went along to finally see this man in action that I'd heard so much about.
Within five minutes of listening to Howard speak, I knew I had to work with him.  Honest, funny, so, so smart, generous, gifted, passionate and did I mention funny?  It seemed a no-brainer to me.
The opportunity came on the last day of the Masterclass when I applied and was accepted to work with Howard in a three week Scene Study class – with the aforementioned actress friend, the talented and lovely Rachael Blackwood, as my scene partner – commencing two days later.
To say that the next three weeks were the most challenging, satisfying and fun in my creative life since drama school in the UK would not be doing the experience justice. It was all that – and more.  Rachael was a joy to play with (love you Rach!) – we laughed, cried, learned, worked our butts off and laughed some more and it was just brilliant.  Suffice to say, I knew I had found a creative home with the HFAS Faculty and in Howard, discovered a teacher I had quickly grown to love and respect.
I also realised (joyfully) that here I had permission to explore and grow my craft for it's own sake.  Sure, as actors we all want to work, and most of our choices when it comes to study are intrinsically linked with securing actual work in the biz, but it was so refreshing to be in an environment that focused purely on craft at such a high level of teaching and in such a supportive environment.  Yes, I was in love again – with Acting and with learning and it was awesome!
The joy I felt was not only because of working with Howard (although it was a large percent of the reason!), but also my fellow actors I had the privilege of watching, learning from and working with during that time.  Creative friendships were formed and have lasted, due to mutual respect and love of craft and for that too, I am forever grateful.
The next chance I got to work with the HFAS Faculty was October last year, when the delightful and insightful Laura Gardner came out here to teach.  Due to my crazy schedule at the time, my availability was limited, but I managed to get into her two day Audition Technique workshop – and boy was I glad I did.
Direct, funny, passionate and insightful – Laura was all the things I had come to expect from working with Howard.  The two sessions I had working with her built on the joy, and learning to put the technique to work in an audition situation was invaluable.  Laura additionally had some great advice regarding my placement (or "branding" as I call it) in the industry for which I am also truly grateful.
Then came November.  I had heard so much about David Coury from others who had worked with him and yet I still wasn't sure what to expect.  I knew Howard was really looking forward to working with David in the Masterclass situation and there was just a feeling amongst all of us that this was going to be something special.
I will admit that when I got the email telling me who my scene partner would be, I punched my fist in the air in delight complete with a very loud "Yes!!!" upon seeing the name.  Syd Brisbane is one of my favourite people to work with and watch – a truly talented actor and lovely human being.  We'd worked together with the Australian Shakespeare Company back in 2010/2011 – playing opposite each other – and I was truly thrilled to be getting the chance to work with him again in this environment.
And so the work began.  Syd and I discussed, rehearsed, prepared, built place and generally got stuck into the process.  We had been given "Frankie and Johnny in the Clair de Lune", which is a brilliant play.  But also, for me, personally challenging.  The last time I had appeared on stage in my underwear was the professional Australian Premier of "I Love You, You're Perfect, Now Change" – over a decade and several pounds lighter ago.  I'd successfully managed to avoid doing that again since – until now.
Luckily, I was working with Syd, whom I wholeheartedly trust.   And thankfully I would be working with Howard – another whom I trust implicitly.  So, with the knowledge that this emotional (and physical) state would also inform the character, I faced the fear and committed to doing it anyway (thank you to Mac Andrews, Jana Dugal and Christine Kimberley who were the directors of my drama school in London for teaching me this – your intensive work with me then prepared me for what I am doing now and I love you all for it!).
The first day of the Masterclass came and we were first up.  I was nervous to say the least.  I always am before working, but this time was a little more intense.  Just ask my partner, Billy, how much fun I was to be around that morning!  There was a part of me wondering if I could get away with wearing the robe the whole time, but I sternly told myself that wasn't being true to the character or circumstances and to get over it and on with it.
With the mantra "It won't kill you", resounding in my head, we were up and the scene was happening and it was on.  Three to four minutes later, we finished the scene, nobody had died, and Howard was smiling at me in that infectious way he does.  Despite knowing that at one point my knees had decided to take up percussion as a hobby and I had wrapped my robe tightly around me as soon as the scene was done, I had been in that apartment in New York in bed watching an old movie on the TV and demanding a "Western on white down", and I also knew that I had faced a fear and survived it. That in itself was a somewhat euphoric feeling that was worth the experience.
And then the real work began.  David stepped up to the stage.  It was the first time I had met him and I knew, again within a few minutes, that this was someone I liked and would very much enjoy working with.  He challenged us, do not get me wrong!  But he did it in such an insightful and direct way that I couldn't help but trust him and just go with it.  And he made us laugh, which always helps. David took both Syd and I totally out of our comfort zones using the voice (which I didn't think was possible to do any more than I just had!) and it was exhilarating and scary and wonderful all at once.
Once David finished, Howard stepped forward and again, transformed the work even further.  I can't put into words how extraordinary it was to explore craft with these two talented human beings.
Howard always inspires me to work harder, or rather – better.  Better in the sense of having a stronger preparation structure, deeper insight into the given circumstances and the world presented on the page, a clearer understanding of what it is to be a human being.  To keep growing, I guess.  Both he and David are truly gifted teachers who will tell the truth (without crucifying the actor), but also suggest and facilitate how the work can improve with a sense of shared adventure.  There is such love – of craft, of actors, of fellow human beings.
Armed with our notes and the knowledge that we only had 48 hours to implement them before coming back on the stage to do it all again, Syd and I stepped backstage to get back into our "civvies" with renewed determination to build on what we had done and learned.
And the learning continued.  Being able to watch so many of our fellow actors over the next four days go through this same process and see the amazing leaps forward in performance and craft, was again, inspiring, insightful, moving and joyful.  And so instructive in it's own right.  The way classes are structured and taught at HFAS Australia means, when auditing, you are just as involved as the participants in the learning process and just as actively engaged.
Two days (and a few autonomous rehearsal sessions) later, Syd and I returned to the stage and went through it all again.  And loved it all over again and gained so much from the experience all over again.  And the sense of gratitude I felt for the opportunity to work in this way, with these people was, quite simply, overwhelmingly powerful and so creatively satisfying.
If we're growing as people, we're growing as actors and that is one of the reasons I love this vocation that I am so fortunate to explore and pursue.   And while I know that perfection is just a concept that will never be achieved, being in that environment was exhilarating and joyful and just fuelled further my desire to keep learning and plying my craft for it's own sake.
And so, we come to now.  I guess I was moved to write this post for two reasons – firstly, the delight of spending time on set this week with Syd Brisbane as fellow cast in a new ABC/BBC TV series, where we talked over lunch of our time during the November 2012 Masterclass, working with Howard and how that has impacted on our work since, and secondly, my latest encounter with HFAS Australia – auditing for one day on the full time students Singing For Actors Open Masterclass a couple of weeks ago – again facilitated by the indomitable Mr Coury.
Seeing David again and catching up with him after nearly six months was just lovely.  Watching him work again was – there's that word again – extraordinary.  Experiencing the actors who stood up on that stage to share their work and themselves was breathtaking.  I know I sound like a convert, but I am happy to admit that I am a fan.  Of the work, of the people and of the community that has built up around the Howard Fine Studio in Australia.  Such talent and love and joy – how could I not embrace and celebrate that – and want more?
And all this is possible due to Patrick who decided he wanted to bring Howard out here for us to experience and Howard and his faculty for accepting the invitation.  And then Patrick, Phil, Jess and the team at HFAS Australia for keeping the fires burning and the enthusiasm high to keep the work going.  And then all those actors who have dived in and embraced that work.  It is truly a beautiful thing and I know that I am but one of many actors who feel this incredible sense of gratitude and excitement for what is taking place here in Melbourne as a result.
I am now in preparation for Scene Study with Marilyn McIntyre and Ted Brunetti which begins next week at HFAS Australia. I am nervous, but over the years I've come to embrace those nerves as a sign that it's time to open up, knuckle down and work (which is always a good thing) and I am so looking forward to experiencing first-hand two more of the HFAS Faculty – and so very thankful that I am able to do so.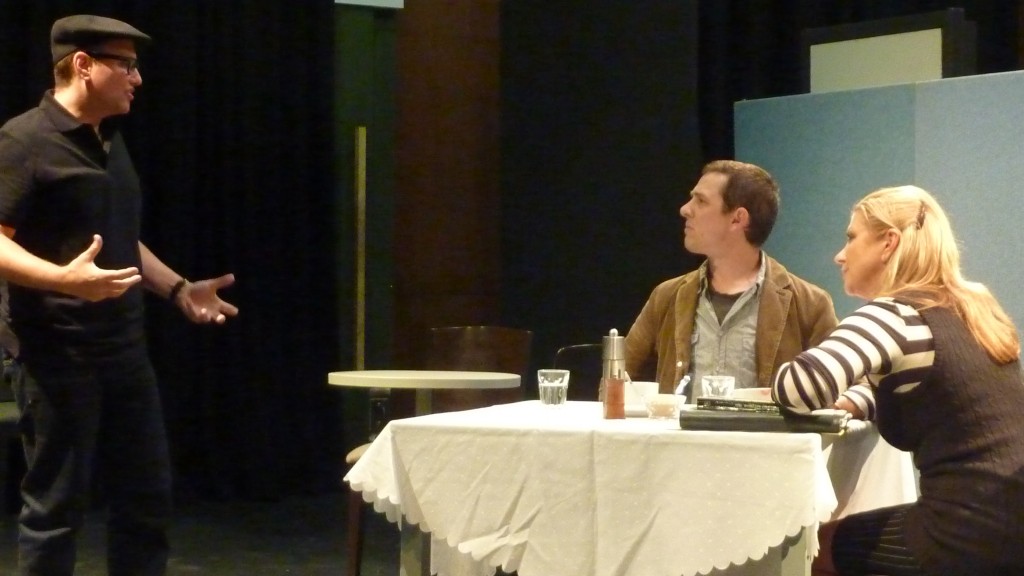 To read another actor's experience of the Howard Fine & David Coury Masterclass, read Jennifer Hansen's excellent blog posts here and here.
To know more about the Howard Fine Acting Studio in Australia, visit here.